Whether it's for your weekend adventures or for your weekday work tasks, a pickup truck can come in handy and be your best friend in a variety of situations. At Klein Chrysler Dodge Jeep Ram, we appreciate the versatility and power of a great truck as much as anyone else in the Clintonville, WI area, and we're proud to carry one of the best pickup options around, the Ram 1500.
Available in multiple trims, engines, and styles, the Ram 1500 is a flexible model that can be customized to suit your specific needs. It's at home on the jobsite and on the highway, offering a comfortable and smooth ride regardless of where you happen to be.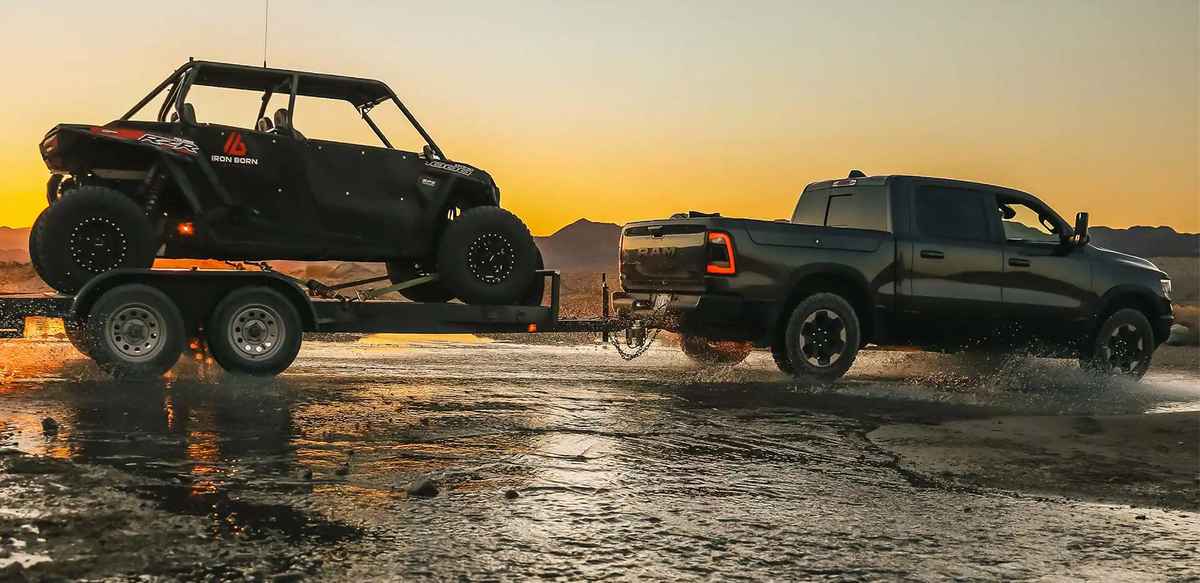 While the Ram 1500 practically recommends itself for most drivers here in the Shawano, WI area, we also understand that it's most likely not the only truck in its class that is vying for your attention. To illustrate what makes it the superior choice, we've taken several key aspects of the 1500 and compared them side-by-side with a similar truck from GMC. Read on and learn more.
Ram 1500 vs. GMC Sierra 1500
Performance. You'll find that when it comes to sheer output and performance, there's no comparison to what a Ram 1500 can add to your day to day. While both the Sierra 1500 and our Ram model have a menu of powertrain options to choose from, the Ram 1500 delivers a higher power output across the board. To illustrate, while the Ram 1500 starts out its lineup with 305 horsepower from a V6 engine, the Sierra 1500 starts out with 285 horsepower from its base V6. That trend continues throughout the lineup of options. For example, elsewhere, top output ratings for the Sierra 1500 come to 420 horsepower. But the Ram 1500 has a special 720-horsepower top-tier engine option that will quicken your pulse and make every ride more thrilling.
Towing. Heavy trailers loaded with tools and family-friendly campers are no problem for the capable Ram 1500, which has a top towing capacity of more than 12,000 pounds, depending on the configuration you go for. This is a greater utility rating than the GMC Sierra 1500, which has a top towing capacity of less than 10,000 pounds and comes in around 9,400 pounds max.
Payload. With its higher power output and higher towing capacity, drivers in the New London, WI area probably won't be too surprised to learn that the Ram 1500 also has a higher payload capacity than the GMC Sierra 1500. You can haul up to 2,325 pounds in combined passenger / cargo weight with the Ram pickup, and only around 2,200 pounds with the GMC Sierra 1500.
Interior. You and your passengers will be more comfortable riding inside the Ram 1500 than the Sierra 1500 as well. Both have multiple cab style options available to choose from, but the Ram truck gives you more space to stretch out in. This is especially true for the backseat in both the crew cab Ram and the double cab Ram, both of which has more legroom available than the similar styles from the competition.
Meeting the Ram 1500 in Person
With the broad collection of available makes and models at our dealership, you can meet the vehicle of your dreams and take it for a test drive whenever you want, including the Ram 1500. We invite you to get to know our collection of current models online and reach out to our team for more information and to arrange a test spin of your own in Clintonville soon, so you can discover firsthand what makes it the better choice for your next set of wheels.